Incident response planning made easy
The threat landscape is growing, including threats from weather events, terror attacks, cyber attacks, and even a global pandemic. Business continuity planning or contingency plans are essential for ensuring that when a crisis hits you are able to handle it.
Incident management plans are vital for every organisation, no matter what size you are. In addition, regulatory requirements such as the GDPR require all companies in Europe to have continuity plans in place.
The Crises Control incident plan builder module will help you plan, prepare, and respond to the events that threaten your business operations and continuity. It will take you step by step through the process of building plans for every type of incident, no prior experience needed.
Response plans can then be linked with incidents, tasks and actions in the Crises Control platform, ready for when you need them.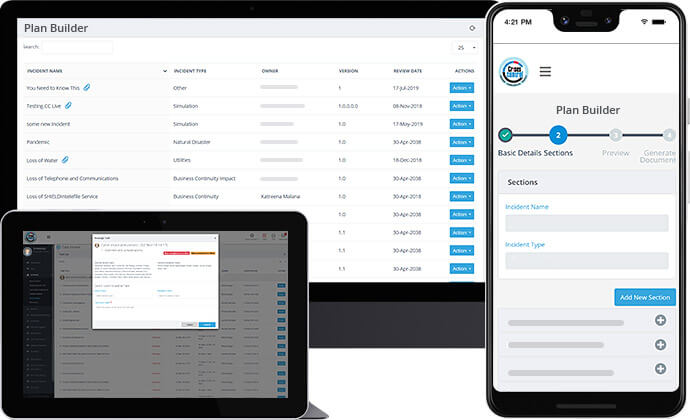 Create business continuity plans with the incident plan builder
Easy to follow plans take you through every stage of the planning process to create actionable, relevant plans for any crisis.
Store incident management plans on the Crises Control platform, and access them whenever a crisis hits, 24/7.
Connect incident management plans to the Crises Control mass communication platform and automate alerts to the relevant people for each incident.
Benefits of Crises Control incident plan builder
It's time to start planning
Protect your business, plan, do, check, act
Begin your resilience journey with the incident plan builder. Easy step by step wizard supports you to create effective critical incident and continuity plans.