Incident response planning made easy
The threat landscape is growing, including threats from weather events, terror attacks, cyber attacks, and even a global pandemic. Business continuity planning or contingency plans are essential for ensuring that when a crisis hits you are able to handle it.
Incident management plans are vital for every organisation, no matter what size you are. In addition, regulatory requirements such as the GDPR require all companies in Europe to have continuity plans in place.
We also offer a powerful tool to help you create one. Our Incident Action Plan (IAP) builder Wizard is an intuitive and user-friendly program that guides you through the process of developing a comprehensive BCMP.
With the IAP Wizard, you can easily identify potential risks and vulnerabilities, as well as develop and test a plan of action to mitigate those risks. The program is designed to be user-friendly, so even if you have no prior experience with BCMP, you can easily create a plan that will protect your business in the event of a crisis or disruption.
The IAP Wizard is an important part of our Business Continuity Management Program, and it can help you to ensure that your business is prepared for any eventuality. From natural disasters to cyber-attacks, our team of experts will work with you to develop a plan that is tailored to the specific needs of your organisation.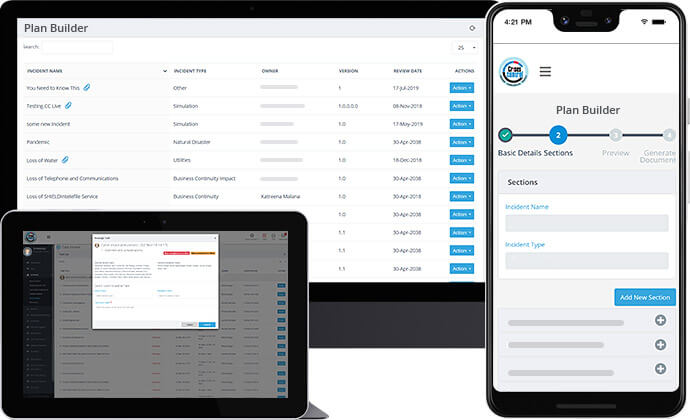 Create Business Continuity Plans with the Incident Action Plan Builder
The Incident Action Plan builder from Crises Control simplifies the incident planning process by providing a step-by-step guide to creating actionable plans for any crisis. With the builder, you can easily create plans that go through every stage of the planning process.

The plans created with the builder can be stored in the Crises Control plans library, which allows you to access them whenever you want. 
Connect incident management plans to the Crises Control mass communication platform and automate alerts to the relevant people for each incident.
Benefits of Crises Control Incident Action Plan Builder
It's time to start planning
Protect your business, plan, do, check, act
Start building your organisations resilience with the incident plan builder from Crises Control. The easy step-by-step wizard guides you through the process of creating effective critical incident and continuity plans to ensure your organisation is prepared for any crisis. With the incident plan builder, you can quickly and easily develop comprehensive plans that support a quick and smooth recovery in the event of an incident.