Emergency Mass Notification System –

Alert Everyone in Seconds with PING
Efficiently alert everyone in seconds at scale with our Mass Notification System - PING, get the message out fast and ensure rapid response and recovery
Fast and Effective Mass Notifications with PING
In times of crisis, every second counts. The Mass Notification System by Crises Control, called PING, enables you to send alerts quickly and efficiently to your emergency response team, employees, and other stakeholders. With multi-channel messaging options, PING ensures that your message reaches everyone, everywhere, and at any time.
Our cloud-based mass notification platform is designed to handle all your mass communication needs. PING is secure, private, and compliant with data protection regulations such as GDPR. It allows you to communicate with your team outside of crisis situations, ensuring that you are always ready to handle any emergency.
Benefits of our Mass Notification System
Whether you need to notify one large group, several teams, or lots of individuals, do so with the touch of a button. Messages will be sent and delivered in seconds, with real-time response reports.
Crises Control is a cloud based solution protected by enterprise grade security to ensure that the messages you send within your organisation are safe, and that information can't be leaked when you least need it.
Crises Control is cloud based, and acts independently to your IT infrastructure to remain operational even when everything else isn't.
Preload messages, instructions, or other media ready to send when you need them. In the heat of a crisis, pre-planned messages will be agreed, correct, calm, and secure, helping your users stay the same way.
The interactive dashboard provides a clear view of communications in progress, message timelines, and recipient responses.
Crises Control can send messages by up to five channels: SMS, email, push message, interactive voice response (IVR) call, and web alert. Choose the channel (or channels) that will most likely reach your target audience.
Multiple messaging channels
PING is a powerful, dedicated mass notification messenger, designed for multi-channel messaging, group management, and auditability for compliance purposes.
Send messages via five channels
PING security and data protection
PING is a secure, private messaging channel within your organisation. It can be used for sending secure messages between people in your organisation outside of crisis situations.
Messages are SSL encrypted (256bit) in transit between devices. Images and videos sent in encrypted messages are sent as link messages rather than actual images. The link leads the receiver to the Crises Control secure cloud, preserving their security.
By sending images and videos as links Crises Control complies with data protection regulations such as GDPR, which require that PII is protected from unauthorised distribution.
Crises Control Windows desktop app
Download the Crises Control Windows desktop app for notifications direct to your computer. Notifications will appear on the screen even if the app is not open on the computer.
Crises Control conference calls
Some decisions are best made with everyone in the same room. When you are in the middle of a crisis, and your decision makers are all in different places, bring everyone together by conference call.
Benefits of Crises Control conference calling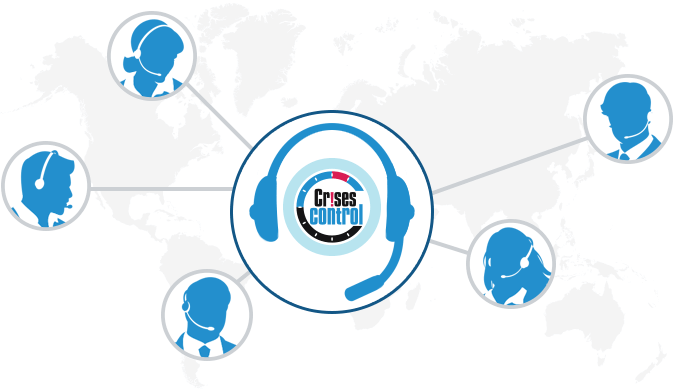 Integrate social media communications
Social media is an important channel for communicating with the wider public during an emergency. Integrate your public messages with your other messaging channels via Crises Control. Connect your social media accounts to Crises Control, and send out public messages with the press of a button.
Get the right message out to the public as quickly as possible with Crises Control.
More efficient emergency communications
Ensure messages reach their target
Take control of any crisis with the Crises Control mass notifications system
Get the message out to response teams, employees, and even the public quickly and effectively, saving time, money, and even lives.
Keep communications open even when your IT infrastructure is down, and improve incident management.
Notify large or small groups of people outside your organisation in an emergency.
Secure, reliable group messaging, with no size limits, acknowledgements and reports.