The Crises Control commitment to GDPR compliance
At Crises Control we have taken steps to ensure that our policies, processes, and procedures meet GDPR Compliance requirements.
All Crises Control products are GDPR compliant, and we will continue to monitor updates to GDPR Compliance requirements in order to ensure that they remain so. Every new product or service is evaluated for the impact it could have on user personal data. Employees receive training about protecting the privacy of personal information.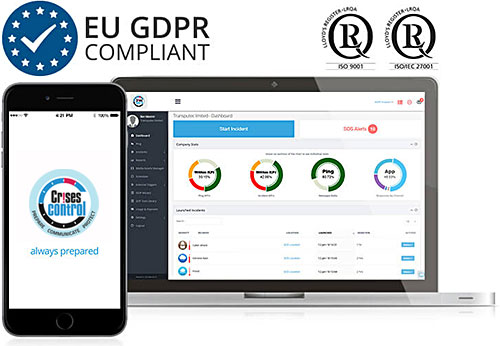 Crises Control Privacy Policy
Our Privacy Policy is a transparent document setting out how we at Crises Control manage data.
The Privacy Policy includes:
The Crises Control platform is hosted entirely on the cloud. As such we have taken steps to ensure the security of our systems on the cloud.
Crises Control GDPR resources
If you are a data controller under the GDPR and require a data processing addendum (DPA) in place with Crises Control, send us your DPA agreement, or contact us at [email protected] for our standard DPA document.
If you have any questions about our GDPR compliance, Privacy Policy, Cookies Policy, Terms of Use, End User Licence Agreement, or Acceptable Use Policy, feel free to contact us.