Incident management for IT
Incident management for Technology teams Mitigates Risks, Ensures Compliance, and Maintains Business Continuity. Leverage our Disaster Recovery Solutions, Risk Management Software, and Incident Response Software to Minimize Downtime, Protect Data, and Optimize Performance.
Maintaining IT & telecom service 24/7
IT and telecommunications are the backbone of the digital economy. If they fail, customers suffer high value losses with every passing minute. At the same time, threats to networks and systems are constantly increasing in number and severity.
When a crisis hits, the immediate alerting of administrators, crisis teams and customers is crucial, especially if your own ICT infrastructure has become restricted or failed completely as a result of a critical incident.
The risks that technology services providers and their customers are exposed to include:
Technical failure leading to service outages
Fast-moving cyber attacks
Data security breaches
Critical events requiring building lockdown or evacuation
Fire, flood or storm
Supply chain disruption
Crises Control is cloud hosted SaaS (Software as a Service) solution and stands apart from any in-house or on-premise network. This means that our platform is always available when yours is not, which is vital when you need a crisis management or IT alerting system to be up and running during a critical event.
Crises Control also excels at prevention and risk monitoring with our automated alerting systems integrated with your own in-house monitoring tools to ensure rapid response 24/7.
Crises Control can use geo-targeted notifications to:
Mobilise response team to mitigate technical issues
Integrate with monitoring systems for automated IT alerting
Notify employees of life safety and security evacuations
Comply with data breach notifications laws
Issue network maintenance messages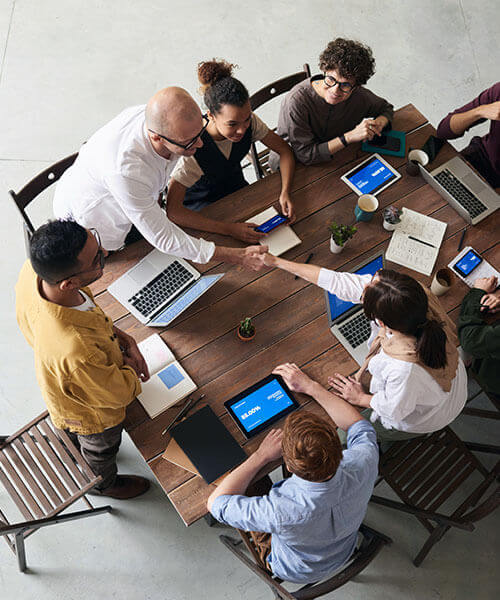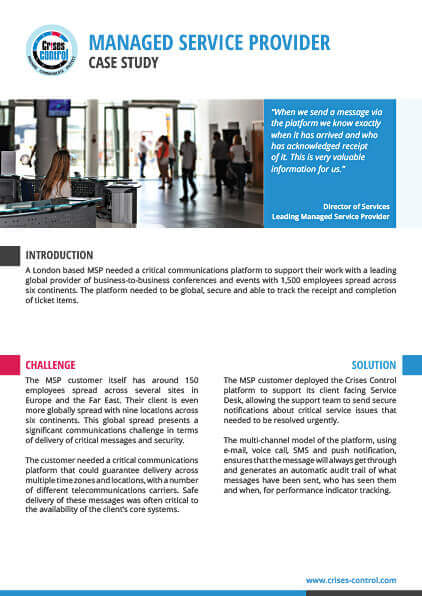 Case Study - Managed Service Provider
A London based MSP needed a critical communications platform to support their work with a leading global provider of business-to-business conferences and events with 1,500 employees spread across six continents. The platform needed to be global, secure and able to track the receipt and completion of ticket items.
The MSP customer itself has around 150 employees spread across several sites in Europe and the Far East. Their client is even more globally spread with nine locations across six continents. This global spread presents a significant communications challenge in terms of delivery of critical messages and security.
The customer needed a critical communications platform that could guarantee delivery across multiple time zones and locations, with a number of different telecommunications carriers. Safe delivery of these messages was often critical to the availability of the client's core systems.
Crises Control for the IT Department
Stay connected and in control 24/7
IT alerting is key for any organisation to stay on top of daily or emergency events. In today's digital world, the IT department holds strategic assets and actually runs the operations. Their ability to stay operational is of top importance to stay afloat. Crises Control gives you the tools to plan, launch and monitor alerts and tasks to completion.
Service Desk Task Tracking
Use our Task Manager to allocate tasks to IT support, track progress to completion or escalate. Use our automated auditing for later review.
In case of a critical incident such as a cyber attack, telecoms or, power outage. CIOs can inform response teams and other stakeholders and track their progress until the issue is resolved.
Integrate with over 200 applications, using the trigger alert function. Integrations include ticketing systems, server monitoring and anti-virus software.