If a crisis hit right now, how ready would your organisation be to deal with it?
Business continuity and resilience refers to an organisation's ability to adapt quickly to disruptions while maintaining continuous operations and safeguarding people, assets, and overall brand equity.
Crises can happen at any time, regardless of the protections you have in place. The key to minimising the impact on your business is to be prepared to deal with them. With the Crises Control solution, you can complement your business continuity and resilience efforts by creating incident action plans, a mass notifications platform, response team task management, on a private and secure platform. This helps to ensure that your organisation is ready to respond effectively in the event of a crisis, minimising disruption and supporting a quick and smooth recovery.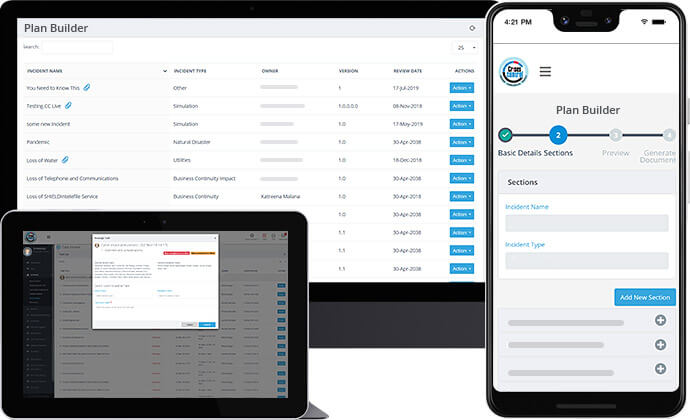 Planning business continuity and resilience
Effective incident management plans are critical during a crisis. A Business Continuity Management Program (BCMP) is an essential component of such plans as it provides a pre-prepared and tested approach for managing incidents. The BCMP helps response teams by clearly allocating tasks for each member and automating the workflow for executing critical tasks required for a quick and smooth recovery. Comprehensive incident management plans, such as those provided by Crises Control, include a BCMP as an integral part of the overall strategy.
The Incident Action Plan Builder from Crises Control is an essential tool for organisations that lack crisis business continuity and resilience plans. The step-by-step guide provided by the builder leads you through the process of identifying the risks your organisation faces and how to respond to them in case they occur. This helps organisations to create comprehensive and effective incident management plans that support a quick and smooth recovery in the event of a crisis.
Incident management on Crises Control
In the heat of a crisis, the last thing your response team wants to do is have to think of what comes next. The Crises Control Incident Management Module provides valuable features to help you respond to, and manage incidents of all sizes.
Link the tasks from incident plans into the incident management module, and create action plans, checklists, template messages, and more. Track tasks as they are completed, and record all actions, decisions, and timings throughout the incident.
Crises Control business continuity and resilience key features
Building business continuity and resilience with Crises Control
Stay connected and in control 24/7
In today's fast moving, digital world, alerting your employees, customers, or the public is key to staying on top of unplanned or routine events, daily tasks, or emergency incidents. Use the Crises Control platform to plan, launch, communicate, support, and monitor incidents from start to finish.
Integrate Crises Control with other platforms such as ticketing systems, server monitoring tools, antivirus software, and more to enhance your business continuity functions.
When a crisis hits, use Crises Control to manage tasks, track progress, and keep response teams, employees, and other stakeholders informed, until the incident is over.
Alert responders to incidents and tasks
Use Crises Control to alert response teams to an incident, allocate tasks, and report on progress. Gather performance data using automated auditing and inform post event learning and improvement.